Modula is the name of the Italian company that designs and manufactures automatic vertical warehouses suitable for any industrial sector or environment. Modula is also the name of the warehouses we make which are used to store various types of product, from small electronic components or pharmaceuticals to heavy and bulky objects like moulds or engine/car parts.
These vertical warehouses are designed to reduce occupied floor space by 90%, increase productivity, speed up picking throughput and improve warehouse efficiency by reducing risks to both people and goods.
The first Modula was produced in 1987, and since then our company has been synonymous with innovation and "Made in Italy".
Today, Modula has more than 15,000 clients around the world and a production capacity of 3,500 machines per year from its 3 production facilities in Italy (Salvaterra di Casalgrande, Reggio Emilia), USA (Lewiston, Maine) and China (Sozhou).
Besides these facilities, we have 7 subsidiaries in Europe, America, Asia and Africa and a vast network of 50 authorised distributors. This ensures we have a presence where our clients are, allowing us to service all our main markets and respond quickly and locally to all our client's needs.
Product Categories
Modula Lift
The best vertical storage system to recover space and increase security
Introduced on the market 30 years ago Modula Lift is amongst the most reliable and advanced on the market Technical Data
Modula is the ideal solution to store any industrial product, components or spare parts in all possible industrial environments, industries and departments.
Many companies have chosen Modula to re-organise and improve the workflow due to its flexibility, the wide range of models, the design and ease of use.
The software can be used with Modula or as a standalone system that manages all possible warehouse operations or a combination of both. To gain the most benefit from your Modula and increase your productivity, we offer a wide range of accessories.
90.000 Kg of capacity!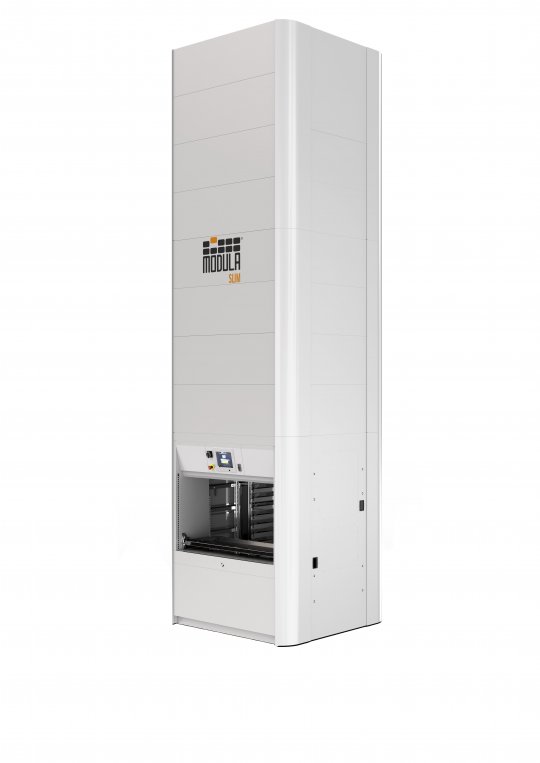 Modula Slim
All the benefits of a Vertical Lift System in the space of a vertical carousel
Modula Slim is the smart choice for anyone looking for a vertical storage solution with complete flexibility.
Technical Data
You can store all sorts of materials and products in your Modula Slim: loose materials, containers (boxes, bins, packs, cartons, cases), small items, spare parts, coils, flasks.
The best of the Lift technology built in a:

3 sqm of floor space
1,6 m depth
What Modula Slim can do for you?
Recovers floor space, making the most of storage density
Reduces picking times
Makes materials accessible to all operators, quickly and ergonomically
Keeps stock levels and all warehouse items under control
Integrates easily into your company processes by communicating with all ERP systems
Tracks picking and refilling operations, identifying who did what and controls every access
Eliminates picking and refilling errors by guiding the operator through the process
Make use of all the space inside your Modula SLIM without limits or constraints
Total payload is up to 25.000 kg with 7 metres in height and no more than 1,6 m in depth
You can make use of all the availabe space in your VLM thanks to dynamic tray height storage: there are no fixed heights as the Modula Slim calculates the best place to put the trays and eliminates any wasted space between them
With Lift technology and the way the elevator moves, there are no issues with unbalanced loads unlike with carousel systems
Energy consumption is relatively low: less than 1,2 kW/h
You can choose to power the warehouse with a threephase (400V) or a single-phase (230V) supply
Maintenance is limited: the V-Shape toothed belt transmission system is super quiet, requires no lubrication and its self-aligning pulley system means it's super easy to install and adjust
You can add all options from the Modula range such as visual aids, Put to light, access control systems, partitions, dividers and slotted tray walls to subdivide the trays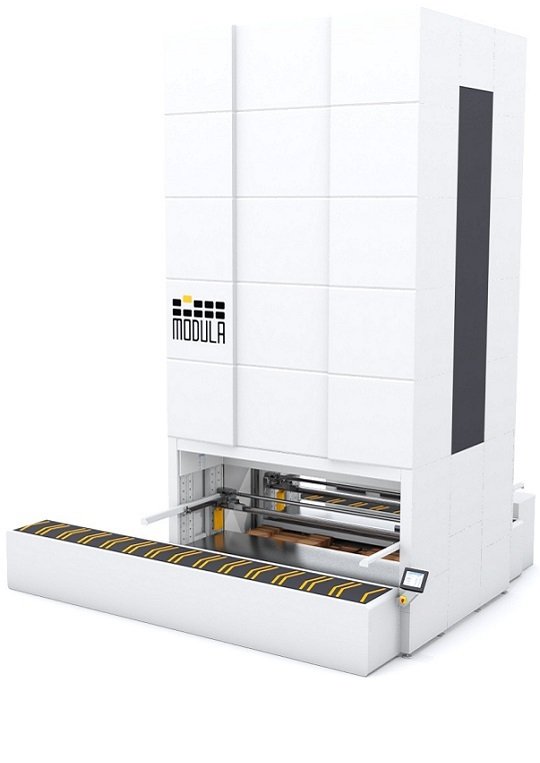 Modula OnePick
Automation at the highest level with the new vertical warehouse OnePick.
OnePick is a Modula Lift automatic vertical warehouse with a special picking bay equipped with a Cartesian robot moving along 2 axes (X and Y).
The bay is set at a predefined height so it integrates seamlessly with rollers, conveyors, belts and other systems completely automatically. In the OnePick bay, a gripper device retrieves the box and places it in front of the bay on a surface external to the machine.
Technical Data
OnePick combined with a handling system allows installation of an automatic vertical warehouse even in areas that are difficult to access, uncomfortable or far from where the goods are needed. OnePick's operation is based on WMS software which, amongst other things, also maps the location of the tray containers. The gripper device is guided by this mapping and retrieves the requested items autonomously. This type of automatic transport system will then be able to convey the retrieved materials to another location, even if far away.
Back to our products >>

Request our product catalogues